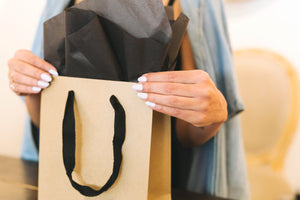 Ep. 10 | How You Can Win With Google Shopping Ads New Price Tracking
In Today's Podcast - 

Learn Why The New Google Shopping Ads Feature of 'Price Tracking' could be huge when it comes to how Customers buy from your local business.....
Google Rolled Out Some Pretty Cool Features Recently For Google Shopping Ads. One Of Those Features Is The Ability For A Customer To Track Price Drops From Big Brand Websites & Local Stores.
Now you can showcase your local in store inventory through your Google Shopping ads AND when you have a sale, customers will be notified on their mobile device
In the coming weeks, Google said they will roll out the ability for customers to be notified via email of a price drop on their favorite in store products.
This new price tracking feature for local store inventory is a game changer in my opinion; something every small business should be jumping on right away!
How You Can use Local inventory Price Tracking to Your Advantage.
Two things I want to say right away.. I have done tons of searches.  Almost no local stores are advertising their local inventory online.  
YOU HAVE A CHANCE TO GET AHEAD OF THE GAME, BEFORE CHRISTMAS AND LIST YOUR ENTIRE IN STORE INVENTORY.
Now, local inventory ads are nothing new, but this upgrade in price tracking is really cool and worth taking a look at as a local business. Once email notifications roll out you will be behind the competition.
Soon You will be able to Get Into Someone's Inbox Via Google. And Not Just Anyone's Inbox. You're Getting Right Into The Customer's Inbox; A Potential Buyer Who Already Tagged Your Product!
Google Shopping Ads Are Already Some Of The Cheapest Online Ad Spots You Can Purchase. 
Some Of The Benefits Of Google Shopping Ads Include
The Ability To List Your Entire Catalog Of Products Within Google Ads.

Only Pay When A Customer Clicks An Ad Vs Paying For Reach Or Impressions

List Your Products At The Top Of Every Search
Now, With The Ability To Notify Customers Of A Price Drop You Can Really Compete With The Big Brands.
Here Is What Google Has To Say About The New Google Shopping Experience.
The New Google Shopping
(Read The Full Original Article Here)
The Redesigned Google Shopping Experience Is Now Available In The U.S. Across Mobile And Desktop. With Information From Thousands Of Stores In One Place, You Can Discover And Compare Millions Of Products, And Find The Best Prices And Places To Buy Online Or From A Store Nearby. The New Homepage Is Personalized So You See Useful Product Suggestions, As Well As Sections That Help You Reorder Common Items Or Continue Your Shopping Research. And When You're Ready To Buy, You Can Choose To Purchase Online, At A Nearby Store, Or Directly From Retailers On Google.
Stay In The Know With Price Tracking
You Can Also Track Prices Of Products On Google Shopping. Once You've Found The Product You Need, Turn On "Price Track" And You'll Receive A Notification On Your Phone When The Price Of That Item Drops. In The Coming Weeks, You'll Have The Option To Receive Those Notifications Through Email. Pro-tip: With All The Holiday Sales Around The Corner, Why Not Turn On Price Tracking For Items On Your Shopping List?
Plus Everything Is Backed By The Google Guarantee.  Giving Your Customers Extra Peace Of Mind. Check Out The Full Podcast Below And Read The Full Article From Google Here. It Has A Ton Of Great Info!
I Cover More Of The New Features Google Just Rolled Out, plus some of the new display options offered in Google Shopping Ads All In My Latest Podcast Episode (below in YouTube or Audio Form).  Enjoy!
Want to learn how to get your in store inventory in front of customers and into Google shopping ads?  Check out this great post by GoDataFeed.com
Read the full Article from Google about all the new Google Shopping Ads Features Here at Google Blog.
---