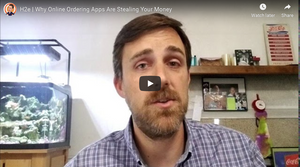 Why Online Ordering Apps Are Stealing Your Money
 If you want to keep spending money on Google ads and giving up to 40% to 3rd party online ordering apps, ignore this video and message.
#3rd Party Apps Seem Great, But They Have A Hidden Dark Side
3rd party Ordering Seems Great at First.
Running a Restaurant is tough. The ability to have a third party apps like ChowNow or Hungerrush, instantly connect to your store and handle online ordering seems like a dream come true. And for the most part, it is.
"There is a hidden killer to growth embedded in the very fabric of the way some Online Ordering Platforms do business."
Here is the Problem With Some 3rd Party Ordering Platforms
Common Issue 1 - It costs extra to get important customer data or They do not share it with you at all. 
When you have customers order through Hungerrush or ChowNow, or even Grub Hub or Uber Eats those companies hold premium customer data and charge you to access it!
Why Do You Want Customer Data?
We know 2 Things For Sure.....
1. Paid ads are an expensive way to get customers in the door. If you want to lower your ad costs and generate more revenue you need to get start targeting past visitors and past customers.
2. Restaurants Grow When They Grow their repeat customer rate. Targeting repeat customers with new coupons and offers through email and other means (like ranking in search and with more Google reviews) will help you keep ads down and revenue growing.
If you want to grow your restaurant you need repeat customers and cheap marketing costs.
Without valuable customer data it will be tough to grow your repeat customer rate through free methods like email newsletters
But Here is Something Most Restaurant Owners Don't Know
You Grow Repeat Customers Through Follow Up Marketing Methods Like:
> Emailing your past customers with Coupons, New Menu Items or your next big event.
> Retargeting past visitors with new ads when they go to Google, Facebook or Instagram.
> Direct mail Marketing to past and new potential customers
And if you use Hungerrush, Chow Now or other similar services, prepare to give up revenue and valuable customer information (unless you are ready to pay a premium fee for it!)
How Much Do 3rd Party Platforms Cost?
An excerpt From ChowNow.com - here is what they say about Grub Hub
Read the full article here
Third-party online ordering platforms charge commissions on each and every order, which can range between 15% to 40%.

Grubhub, for example, might charge you a base of 20% per order just to appear on their site and accept online orders. If your restaurant is in a competitive area and you're eager for marketing help, though, you'll want to opt for a sponsored listing, which would place your restaurant near the top of search results. That, though, might cost 30% of each order instead. Delivery is another 10% of your order. Even if you have your own delivery person and charge your customers a delivery fee, Grubhub will take 10% of that too. All in all, platforms like Grubhub cost you up to 40% of what you take in for each order.

Those commissions add up.
Perhaps you're not paying anything close to 40% of each order—maybe your third-party online ordering platform charges you 15%, for now at least. Even then, these commissions can put a large dent in your profits.

Say your restaurant operates at a 10% profit margin, which is above average for the industry. On a $50 ticket, you'd actually keep $5 in profit after accounting for your food, supplies, labor, rent, and all the rest. Even if you're giving just 15% of each ticket to your marketplace, that equates to $7.50, which leaves you with a loss of $2.50.

That loss wouldn't be significant if it only applied to a customer's first order. After all, you're using third-party marketplaces to reach a new audience, right? However, third-party marketplaces like Grubhub cost the same whether it's a diner's first or fifteenth order. That $2.50 loss gets multiplied, and you end up paying these marketplaces a massive sum of money to sell your food.
 ---------------------------------------------------------------------------------------------------
Solution
If you are serious about running a restaurant have a web developer build online ordering into your existing website.
That way you get to keep all customer data!  and if you run your website on Shopify, Wordpress or Squarespace you can now integrate all sorts of free targeting options.
Stop Wasting money on trying to get Google & Facebook Ads to work alone
 If you are serious about running a restaurant you must get online ordering on your website.
You must also turn paid traffic into free and recurring traffic.
 The growth of your business depends on it!
 If you would like to talk further about what you can do to get online ordering and better marketing working on your website let's book a call.
I would love to schedule a free call to go over your options.
Use The Book a call bubble at the bottom left of your screen to start.
 I wish you all the success in the world! Running your restaurant can be tough, but extremely rewarding;  at least that's what my other restaurant marketing clients tell me!
It looks like an extreme amount of work to me! 
Give me a shout through the button below (schedule a call time) to chat about your growth options. 
I am free all Week!
Thanks!
Sincerely,
Marshall Garth
One of my most recent marketing clients made $3 for every $1 spent on ads every month!
---